MLS in
Master of Science in Patent Law
University of Minnesota Law School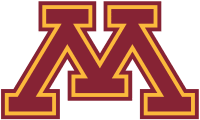 Scholarships
Explore scholarship opportunities to help fund your studies
Introduction
Our pioneering program combines a traditional study of the complexity of patent law with project-based learning about business strategies and extensive practical training. By the time you graduate, you will understand the science behind patents, the law that secures them, and the techniques to manage innovation and maximize the value of resulting patents.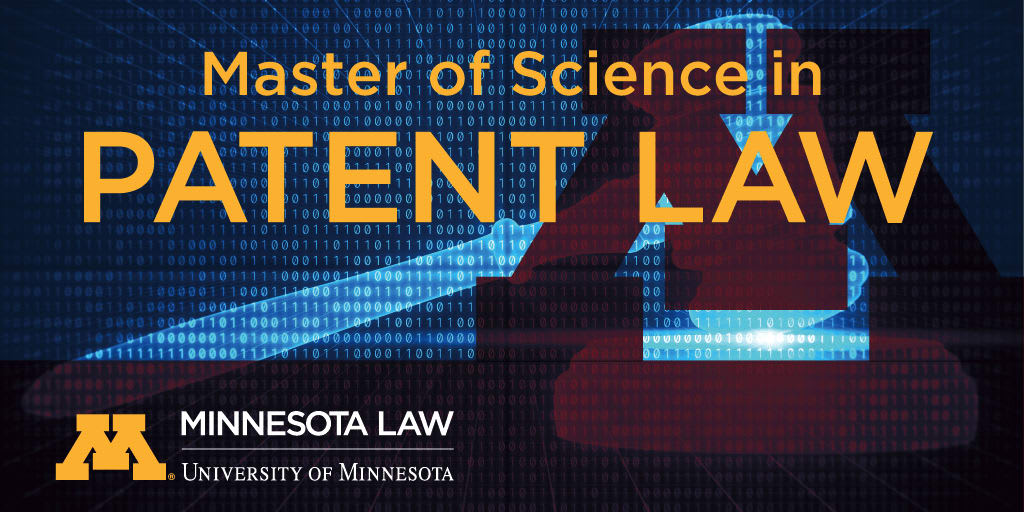 Launch Your Career in the Legal Field
Graduates have gone on to a wide array of careers in patent-intensive industries ranging from medical technology to computer software. Many of our graduates take and pass the Patent Bar, going on to become patent agents (i.e., individuals who can work on, file, and initiate patent applications for clients). Patent agents are currently in high demand and the need continues to grow.
Live Life Beyond the Lab
If you are looking for an exciting and engaging career using your STEM knowledge in a creative way, a Master's in Patent Law may be for you.
Ideal Students
The ideal candidate is one who possesses a strong interest in science and technology and has the capacity to quickly understand new technologies and communicate information relating to new inventions and innovations in a clear and concise manner.
The program is a professional master's degree. We are looking for candidates that will have a high likelihood of successful placement in the industry. We look at applications holistically, while grades are a factor, professional work experience, a strong writing sample and your field of study may play a more important role. More specifically, there is a high demand for patent practitioners with degrees in physics, electrical engineering, chemical engineering, or mechanical engineering, or with an advanced degree in the biological sciences. Students with these backgrounds will be considered more favorably for admissions and for scholarship awards.
Admissions
The Master of Science in Patent Law degree program is a professional master's degree for scientists and engineers interested in pursuing a career in the field of patent law.
Students may enroll either on a full-time or part-time basis. Those enrolled in the full-time program earn their master's degree in one year. The part-time option puts students on track to receive their degree in as little as two years. However, students may elect to take up to three years to complete the degree requirements.
Full-time and part-time applications are now being accepted and reviewed on a rolling basis. All students are automatically considered for scholarships at the time of application.
The qualified U.S. and international students are encouraged to apply.
Scholarships
Scholarships are available for exceptional candidates. All candidates are immediately considered for scholarships upon applying to the program. No separate scholarship application is required.
Curriculum
Students may enroll in the Master of Science in Patent Law Program on a full-time or part-time basis. Full-time students complete the degree in one year. The part-time program puts students on track to receive their degree in as little as two years. However, students may elect to take up to three years to complete the degree requirements.
Career-Enhancing Portfolio
Graduates of this program create a portfolio of practice-based work, including drafting a patent application, drafting a licensing agreement, presenting a patent strategy, and presenting opportunities for innovation.
August Orientation
During orientation, students take an Introduction to the American Legal System (LAW 5001, 2 credits) course to learn the structure of the American legal system and the case study approach to American Law. They will also begin the MSPL Legal Research and Writing (LAW 5002, 1 credit) course to learn and build legal communication skills.
Fall Semester Courses
LAW 5224 Patents, 3 credits: An overview of patent law, including requirements for patentable subject matter; standards of novelty, utility, and non-obviousness; statutory bars; conception, priority, enablement, and written description requirements; direct and vicarious infringement; and claims interpretation
LAW 5231 Patent Prosecution Practice I, 2 credits: Patent application preparation and prosecution, including types of patent applications, inventor interviews, analysis of prior art, preparation of patent specifications, claim drafting, inventorship and ownership determinations, amendment practice, and argument practice
LAW 5250 Patent Portfolio Management, 2 credits: View patents through the various lenses of business value, marketability, technical feasibility, and competitive advantage; best practices for patent portfolio management, strategy, and analysis.
LAW 5002 MSPL Legal Research and Writing, 1 credit: Communicate about the law, learning the building blocks of legal communication through multiple practice exercises.
LAW 5243 Patent Research and Writing, 2 credits: Research and communicate about patents through the use of free, commercial, and patent office research tools.
LAW 5026 Intellectual Property and Technology Proseminar, 1 credit: Topics and issues in the areas of patent and intellectual property law presented by patent and intellectual property law professionals
Electives: See below.
Spring Semester Courses
LAW 5232 Patent Prosecution II, 3 credits: Advanced patent prosecution concepts including international patent practice issues, business method patents, biotechnology patents, software patents, reexamination, reissue, patent validity, and enforcement issues
LAW 5707 Intellectual Property Transactions, 2 credits: Management and monetization of intellectual assets such as brands, copyrighted materials, technology, and know-how; the class will cover a series of discrete topics, including intellectual property licensing, portfolio management, new media issues, the intersection of IP and employment issues, transactions in cyberspace.
LAW 5290 Patent Law Capstone: Innovation, 3 credits: Students select a technology of interest with the cooperation of their advisor. Using their knowledge of innovation, patent law, patent prosecution, patent research, and strategy they identify, articulate and present opportunities for innovation in their chosen technology.
LAW 5075 Ethics for Patent Agents, 1 credit: Ethical issues, duties, and responsibilities that can arise in the field of patent law particularly in the areas of inventorship, ownership, confidentiality, client conflict, statutory bar issues, attorney-client privilege, and the blurred lines between patent prosecution and the practice of law
LAW 5025 Patent Law Proseminar, 1 credit: Topics and issues in the areas of patent and intellectual property law presented by patent and intellectual property law professionals
Electives: See below.
Patent Bar Review Course
Included with tuition, all students will be automatically enrolled in an on-site and online patent bar review course by a leading course provider. This course, which will be offered following the conclusion of the spring semester, will provide students with study and test-taking strategies in preparation for the patent bar exam.
Electives
Students may choose from a wide array of legal and technical elective courses, subject to the approval of their advisor. Options include:
LAW 5608 Trademarks, 3 credits
LAW 5613 Copyright, 3 credits
LAW 6609 International Intellectual Property, 3 credits
LAW 6610 Unfair Competition, 2 credits
LAW 6705 Information Governance, 2 credits
LAW 6133 Data Compliance Practicum, 1 credit
LAW 6832 Cybercrime and Cybersecurity, 2 credits
LAW 5103 Data Privacy Law, 3 credits
LAW 6876 Digital Evidence, 2 credits
LAW 6714 E-Discovery, 2 credits
LAW 5076 Essentials of Business, 3 credits
LAW 6622 International Business Operations, 3 credits
LAW 6853 Law, Biomedicine & Bioethics, 3 credits
LAW 6037 Emerging Sciences & Technology, 3 credits
LAW 6402 Food and Drug Law, 3 credits
LAW 6605 Health Law, 3 credits
LAW 5062 Energy Law, 3 credits
LAW 6709 Current Agriculture-Environment Issues, 2 credits
LAW 5908 Independent Research and Writing, 1-2 credits
LAW 5909 Independent Field Placement, 1-3 credits
Technical electives from one of the University's science or engineering colleges
Program Tuition Fees
This program is offered through the University of Minnesota Law School, one of the nation's most competitive law schools.
What makes this program unique is that M.S.Patent Law degree-seeking students take a majority of their classes along with law school students, receiving the same training and instruction as law school graduates, without having to attend three years of law school and without having to take non-patent related law courses.
Per credit:

Resident $1,821
Nonresident $2,190

12 or more credits/semester:

Resident $21,852
Nonresident $26,280
Career Opportunities
A number of professional career opportunities exist in the field of patent law that don't require a law degree. The program prepares students for four primary career paths:
Innovation: Those who understand patents, and what it takes to come up with a patentable idea, is often better and more prolific inventors and are able to offer more valuable patent-based insights to a business. Career paths can include working at a start-up or mid-sized company where you can play a dual role in both innovation and patent strategy.
Patent Prosecution: A person who drafts patent applications on behalf of a company or inventor is called a "patent prosecutor." Law firms and corporations are actively seeking scientists and engineers interested in drafting patent applications. The number of patent applications filed each year continues to rise while the number of new patent practitioners has remained stagnant. There is increasing demand for scientists and engineers interested in this career path.
Patent Portfolio Management: Many large corporations have portfolio manager roles for evaluating new ideas and determining which ideas to patent, in accordance with a patent and product strategy. In this role, you would perform patent research on new ideas and lead a cross-functional team in making patenting decisions for each new idea.
Technology Transfer: Most research universities and many large research corporations have technology transfer roles that are responsible for licensing their technology to start-ups or existing companies. In this role, you would create a connection with companies that may be interested in licensing your technology.
Other Roles: Additional opportunities include roles as a patent examiner at the US Patent Office, roles in competitive intelligence, business development, and due diligence in venture capital firms.
Students of the Master of Science in Patent Law program enter into cutting-edge careers with a wide variety of Fortune 500 companies and leading law firms, including: