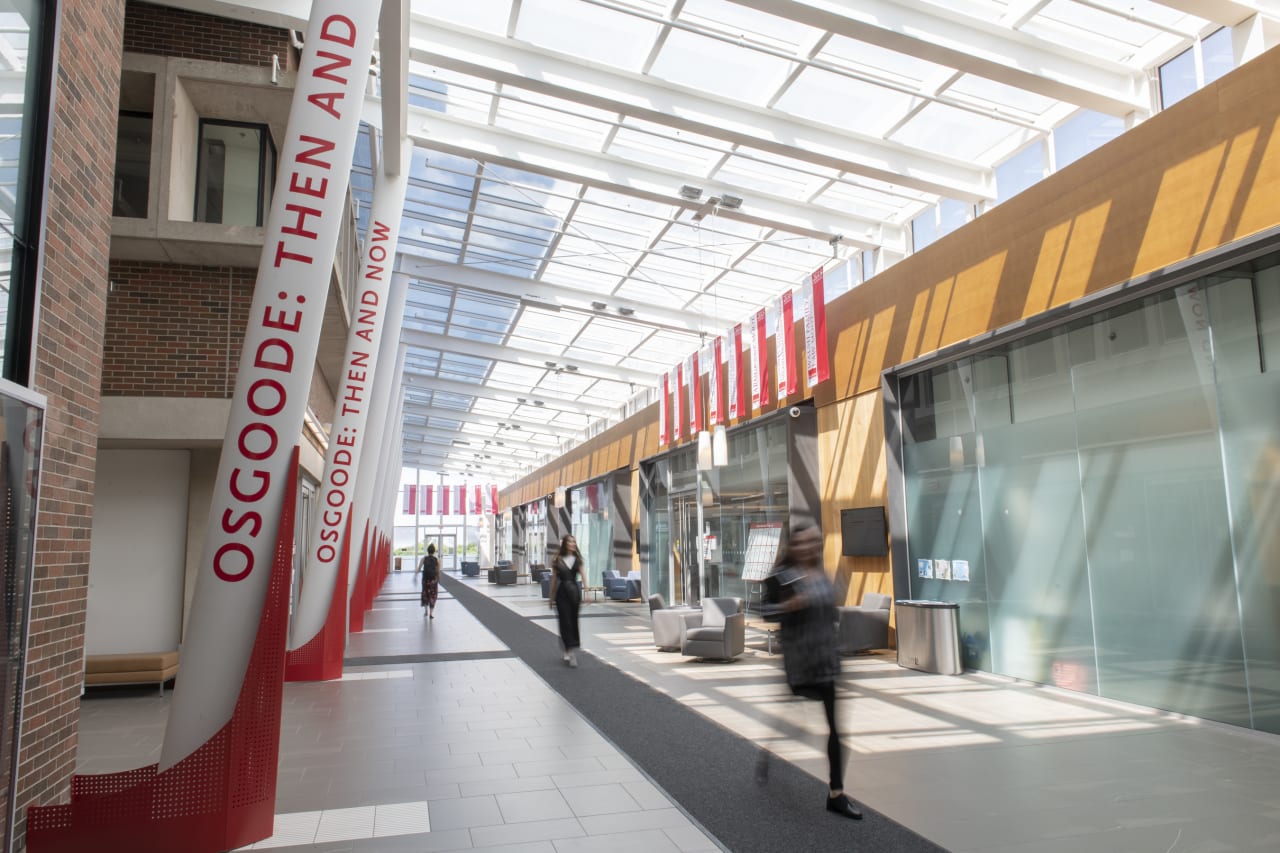 LLM in
Professional LLM in International Business Law
Osgoode Professional Development

---
Campus location
Toronto, Canada
Application deadline
16 Jan 2024
Earliest start date
Sep 2024
* International - $48,051.54; $16,017.18/term; Domestic - $22,804.74; $7,601.58/term.
Introduction
OsgoodePD's Professional LLM is a graduate program in law designed specifically for lawyers and professionals with legal work experience. Each of our distinct specializations focuses on interdisciplinary learning and provides you with a unique mix of academic, applied, and theoretical perspectives. You will learn through interactive discussions and explore practical issues related to your specialization. You'll have access to a wide range of elective options to broaden your legal knowledge or explore new areas related to your professional interests.
The International Business Law specialization offers an in-depth examination of Canadian and comparative private law concepts. Required and core courses address varied elements of international business practice, including business transactions, cross-border taxation, international arbitration, and international trade. You will explore current trends in international law practice, learning about relevant international legal instruments, regulatory changes, and important ethical considerations. International Business Law students may take courses from many of our business-related specializations, including Business Law, Intellectual Property, Securities, and Financial Law. International Business Law students who are internationally-trained lawyers pursuing accreditation to practice law in Canada may take NCA-accredited electives as well.
Ideal Students
Who is the Specialization for?
Lawyers or law graduates with legal work experience who have a strong demonstrated interest in international business law and wish to establish or develop a practice in this area of specialization
Professionals without a law degree who have at least five years of senior-level work experience directly related to international business law in areas such as governance, compliance, risk management, or finance
Note: Our full-time Professional LLM options are geared to applicants who are in a career transition period or wish to take time away from work to focus on their studies. While full-time students are welcome to work part-time during their studies, we encourage those working full–time to consider our part-time options.
Curriculum
Course Requirements
The Professional LLM in International Business Law requires the completion of 36 credits, including a research requirement. The program is designed to be completed in one year (three active terms) through a combination of required and core courses, related electives, and up to 6 credits of outside electives.
What You Can Expect
The program is designed to be completed in one year (three active terms) by completing 12 credits (two to four courses) per term. Full-time students usually take all their courses in person and are expected to visit campus on a regular basis.
Courses in the International Business Law specialization are scheduled in a variety of ways, primarily as daytime intensive courses or weekly evening courses. Courses may be held at our downtown Toronto location or on the York University Keele campus.
In your first term of admission, you may be assigned a course as a condition of your admission. Admission condition courses count towards your degree requirements. Students with the following profiles usually have required introductory courses:
Internationally trained lawyers: GNRL 6209 – Canadian Graduate Legal Research & Writing (Online) (3 Credits)
Professionals without a law degree: GNRL 6149 Introduction to Graduate Legal Studies (3 Credits)
International students from civil law or distance education backgrounds: GNRL 6514 Introduction to Canadian LLM Studies (no weighting)
You will start the International Business Law program by completing your required courses. You should expect your first term to be heavier, particularly if you are taking introductory and required courses. These courses are designed to support new students and scaffold their knowledge and skills, so they tend to have a larger number of class hours and assignments than the core and elective courses do.
Required Course
The required course is typically offered every Fall and Winter term, and must be completed in your first term of study:
Elective Courses
You must complete at least 18 credits from International Business Law course list (not including BLIS 6501). Most electives are drawn from within your home specialization. Some courses with topics related to your specialization may count as Designated Electives for your program even if they are housed within a different specialization.
Up to 12 credits may be drawn from courses in unrelated specializations, so long as you have any required prerequisite knowledge for those courses. Internationally trained lawyers working toward accreditation may use their Outside Elective space to take NCA-accredited courses.
Research Requirement
The research requirement can be fulfilled through one of the following three options. Most students elect to fulfill the requirement through option 3:
A Major Research Paper (70 pages, 6 Credits)
An Independent Significant Research Paper (30 pages, 3 Credits)
A Significant Research Paper (30 pages) is completed as the means of assessment for one of the courses within the specialization.