LLM in
Online LL.M. Digital Law and Technology
Lyon Catholic University (UCLy - Faculté de Droit)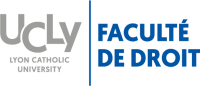 Introduction
Law diploma open to post-graduate students, exclusively taught in English, online, full-time or part-time study possible.
The LL.M. Digital Law and Technology is designed to give students a deep understanding of the legal issues and challenges brought by the digital transformation of our economy and the regulation of the innovations it implies. They will study key topics such as privacy, intellectual property protection, contract law applied to the digital economy, and the ethics and regulation of artificial intelligence.
Entirely taught online (save for an integration weekend in Lyon if conditions allow) and in English, this diploma can be studied full time as part of students' legal education or 'à la carte' for professionals wishing to develop their expertise.
Objectives
Digital technology has permeated all aspects of our economy and created legal challenges and opportunities along the way. Traditional legal topics such as intellectual property and contract law have had to adapt to these new types of products and these new relationships with new actors. Technological innovations also call for regulation, seeking to protect our fundamental values while not stifling progress and the economic benefits of such innovations.
The LLM Digital law and technology proposes a program that will provide the knowledge required by lawyers to participate in the digital economy. This is a growing area of practice, and the skills required are sought after both in private practice and in the industry.
The LLM will explore the impact of the digital transformation of our economy from four angles: intellectual property, contract law, privacy, and regulation of artificial intelligence.
Students will gain a deep understanding of the core issues pertaining to these topics through a combination of recorded lectures, group discussions on a moderated online forum, personal reading, and group exercises coupled with an assessment regime tailored to online learning.
Graduates will develop useful skills in legal research, reasoning, legal drafting, and contract negotiation. These skills are highly sought after by employers.
Organization
Students will study four topics per semester over the course of 10 months and will be required to write a dissertation on a topic of their choosing (approved by their tutor).
The program will be taught remotely, save for an integration weekend on-site in Lyon, France, if travel conditions at this time are allowed. The program is mostly taught asynchronously, allowing students to pursue a professional activity in parallel.
Students will be granted access to our dedicated online platform to follow the course as well as an online library to pursue their research. Assessments will also take place remotely.
The program is taught over a 10-month period for full-time students. It is however possible to study part-time either over a two-year period or by differing the completion of the dissertation to the following academic year.
Advantages
This Online LL.M. Digital Law and Technology will offer several different advantages:
Gain in-depth knowledge and expertise in fields of law that are highly sought after both in private practice and in the industry;
Gain competencies highly in demand in a sector of the legal market that is growing;
Study in your own time and compatible with other professional commitments;
Possibility to study part-time;
Continue your studies and make firm plans for the next year, irrespective of the evolution of the pandemic and travel restrictions;
Course developed for online learning from the design stage to its delivery.
Career Opportunities
Career Opportunities
The program is designed for students who have a strong interest in digital and information technology and who are aiming to work in that sector for either company, law firms, or public institutions.
Students aiming to qualify as lawyers and to work as in-house lawyers would benefit from this program. This LL.M. is designed to meet the need of companies which provide and/or use digital services or products in all sectors of the economy.