LLB in
Bachelor of Laws Business Law
Diploma University of Applied Sciences
Scholarships
Explore scholarship opportunities to help fund your studies
Introduction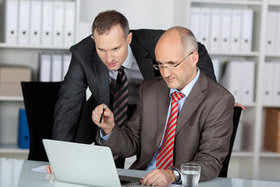 The degree alt = "Business law can be completed at the nationwide DIPLOMA study centers as part-time distance learning or as full-time face- to- face study at the Bad Sooden-Allendorf location with the state-recognized Bachelor's degree .
The standard period of study is 7 semesters for distance learning and 6 semesters for classroom study .
Bachelor course old = "Business Law
The aim is to acquire general knowledge and skills in the fields of business administration and law, as well as to deepen specialist knowledge in the elective areas of financial services, merger & acquisition or real estate law .
The bachelor's program alt = "Business law is geared to the current requirements of the economy and thus meets the sought-after qualification profile of the business lawyer, who works in an increasingly legally regulated work environment require both legal and economic know-how.
The course is characterized by a high practical relevance. Based on practice-oriented facts, a clear and at the same time scientific examination of the course content takes place.
Areas of application for business lawyers
For graduates of the bachelor's degree course alt = "Business Law, there are numerous professional perspectives in specialist areas of commercial companies, the fields of which require legal expertise in connection with business knowledge.
Feedback from numerous graduates attests to a successful qualification for higher-end positions with a high degree of responsibility through the bachelor's degree in the course old = "Business Law.
Graduates with a Bachelor of Laws (LL.B.) degree from the DIPLOMA University can complete a Master's degree in the legal field. DIPLOMA offers business lawyers the master's degree in old = "Business Law with international aspects (LL.M.) and the master's degree in Business and Law with a focus on old =" Business Law (MA).
Normal period
Distance learning: 7 semesters / 180 ECTS
The actual study period can be extended free of charge for up to 4 semesters over the standard period of study.
baseline
With sufficient number of participants in the winter semester (October) and summer semester (April).
accreditation
Accreditation of the degree program by the accreditation agency AHPGS.
tuition fee
Distance learning: € 247.00 / month (total € 11,039.00 plus one-time examination fee of € 665.00)
study form
Attendance study or distance learning. The distance learning course takes place alternating between self-study with study books and full-day Saturday seminars (about 12 Saturdays per semester) at one of our numerous nationwide study centers or online in the "virtual lecture hall" of the DIPLOMA Online Campus.
admission requirements
General university entrance qualification, Fachhochschulreife, passed master's examination or according to the regulation on access to higher education in the state of Hesse, ie either completion of a career development training of at least 400 hours, a technical school or a vocational or administrative academy or final examination in a state-recognized training occupation followed by at least 2 years of employment and a separate university entrance examination.
For further information on special qualifications, please contact DIPLOMA Hochschule. Applicants who do not meet the requirements mentioned above may initially attend the course as guest auditors if the access authorization is within a max. 2 semesters is achieved.
For foreign degrees, equivalence for admission must be demonstrated.
degrees
Bachelor of Laws (LL.B.)
Graduates receive a bachelor's degree and diploma as well as a Diploma Supplement written in English and a transcript of records, which identify them internationally as academics with a bachelor's degree.
Major fields of study
Merger & acquisition
Major events during the bachelor's degree course old = "Business Law (LL.B.):
Bankruptcy law in practice:
Selected practice-relevant activities to support the court-appointed insolvency administrator (preparation of the examination date, utilization of objects that are subject to separation rights, activities of the trustee in the consumer insolvency and residual debt relief procedure)
Participation in special arrangements of the insolvency procedure (insolvency plans, transferring restructuring)
Buying a company in practice:
Basics of the process of a company purchase
Overview of the structure of the company purchase contract
Types of business acquisitions, ways of making business acquisitions
Functions, legal bases, planning, and implementation of due diligence
Auditing:
Introduction to auditing
Overview of the HGB regulations on trading books
Overview of special examination situations and requirements (special examinations, examination of banks or hospitals)
Financial services
Main focus of the Bachelor courses in Business Administration (BA) and alt = "Business Law (LL.B.) with the following events:
Banking products:
Commercial banks in Germany
The deposit business
The lending business
Payment transactions
The securities business
Foreign business
The legal relationship between bank and bank customer
The law of individual banking products (account contract, transfer contract, loan and deposit)
Consumer protection in banking
Financial markets:
Fundamentals of the financial markets
Stock exchange and exchange trading
Stock market
Overview of other financial markets
The Securities Trading Act as advice protection for the securities investor
Fundamentals of financial services:
Concept of financial services
Financial services provider
Framework conditions for financial services markets (population, income, wealth development, legal framework conditions, business and socio-political factors)
Development of the FDL sector in selected countries
Legal basis of banking law
Supervision of credit and financial services institutions and their public law obligations (legal basis of banking supervision, bodies of banking supervision)
The Banking Act
Real estate law
Main focus of the bachelor's degree course old = "Business Law (LL.B.) with the following events:
Public building law:
Spatial planning and state planning law
Urban development law
Planning law
Special features: inventory protection, expropriation
Building permit and planning approval right
Business basics of property valuation:
Introduction to the legal and business principles of real estate valuation (economic property "real estate", land register, declaration of division, use and buildability, real estate market and land use)
Introduction to assessment procedures
Practical application of assessment procedures
Real estate transfer and encumbrance:
Basics of property law
Real estate transfer (release, registration, release notice, land registry contradiction)
Real estate encumbrance (mortgage, land charge, easements)
Residential property law
Leasehold