Program Description
LL.M. & M.Jur. Curriculum in Risk Management

Our Risk Management program provides you the knowledge and skills you need to work successfully in a fast-paced, highly-structured, deadline driven culture. We've designed the program with both lawyer and non-lawyer professionals in mind, and have built courses that help connect the dots across a number of issues, such as compliance, fiduciary management, corporate governance, and more. Engage, innovate, and interact in a dynamic environment that mimics the real world of risk management.
Whether you are a
Compliance Officer
Risk Specialist
Intelligence Research Specialist
Fraud/Anti-Money Laundering Analyst
Asset Forfeiture Manager
you'll develop analytical, cross-referencing, and deductive reasoning skills to help you navigate through the complexities and ever-changing nature of risk.
This program is offered completely online, which gives busy professionals and students who have personal obligations the flexibility they need to learn and to meet the increasing need of being versed in the legal aspects of financial risk.
As a lawyer, what will I gain from the program?
Increase your expertise in this area by being exposed to specializations in financial institutions, anti-money laundering, and compliance, not covered in law school. Network and gain new contacts as you work and engage with classmates and instructors from all over the world. Develop specific skills and balance your new expertise with practical work experience and commercial thinking to increase career opportunities. Upon completion, J.D.s will receive a Masters of Law (LL.M.).
As a non-lawyer, what will I gain from this program?
As a non-lawyer, you'll receive the value of the legal training you need to be successful in your job without attending three years of law school. This degree, with law interwoven into the curriculum and awarded by a prestigious law school, will increase your expertise, networking capabilities, and help bolster career opportunities and personal knowledge. Upon program completion, you'll receive a Masters of Jurisprudence (M.Jur.).
What People Are Saying About The Program:
"A risk management approach to tax means that the new model will by definition be multidisciplinary…Texas A&M University is among the pioneers of change in tax education. In 2013, the State of Texas not only established a new law school at the university but also gave it carte blanche to create a new education model."
Ernst & Young's Tax Insights, March 2016
"With material delivered by a renowned group of professionals who deliver detailed and thought-provoking materials and professional guidance, you'll explore immediately applicable practical knowledge and full coverage of risk management and compliance, tackle content fully tailored to the marketplace and today's changing conditions, and leave confident and practice-ready."
William Byrnes,
Executive Professor of Law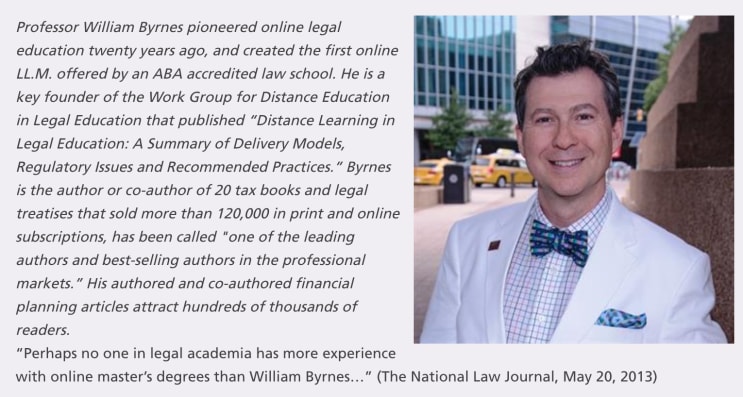 WHY RISK MANAGEMENT AT TEXAS A&M LAW
Our Faculty.
Our program offers the distinct advantage of not only being provided online but also through its all-star lineup of industry experts and legal scholars. Our faculty is an expert in law and business, and more especially, in the identification, assessment, and prioritization of risk. Each course is taught with a particular focus, and by an instructor hand-picked specifically because of their expertise.
Our Course Content.
The program's curriculum blends the traditional foundation course areas with more specialized or modular courses with specificity to industry and career needs, all within a 6-semester framework. The program experience centers on how to minimize, monitor, and control risk, and to maximize the realization of opportunities — and you'll develop the skills necessary to navigate through the complexities and ever-changing nature of risk.
Our Format.
Our asynchronous, engaging online platform allows you to pursue your degree from the #4 ranked public university's nationally-recognized law school without disturbing your full-time job. This unique delivery transcends global boundaries and imparts knowledge on an unequaled diversity of students.
Our Dedication.
We'll provide you the opportunity to cross-train with lawyers and professionals, as you connect the dots for long-term wealth creation and preservation across issues such as governance, investment and expansion, exit strategies, and estate and family planning. Leave positioned for career success and increase your professional opportunities.
ADMISSIONS PROCESS
For the online curricula in Wealth Management and Risk Management
Howdy! We hope you'll join us.
Applications are accepted on a rolling basis with cohorts starting Fall, Spring, and Summer. Applications and all associated paperwork will need to be received in a timely manner to ensure you matriculate into your preferred cohort. We encourage you to apply early to receive a timely admissions decision. The Admissions Committee will give careful consideration to timely submitted applications until reaching program capacity. You may contact us to discuss your plan with a faculty advisor and a personalized graduate program can be developed.
All applicants must meet minimum requirements as set by Texas A&M University School of Law. While satisfying the minimum admission criteria qualifies the applicant to be considered, meeting minimum criteria for admission to the university does not guarantee admission to the program. The School of Law considers all criteria with emphasis on prior professional experiences having prepared the individual for success in wealth management or risk management.
Tuition and Financial Information
To help you as you plan your program:
The LL.M. program requires successful completion of at least 24 credit hours and the MJur. the program requires successful completion of at least 30 credit hours. The per credit hour residential tuition and fees for each degree program are approximately $915, and total costs will vary based on the number of credit hours taken. One benefit of our programs is their flexibility. The total tuition and fees for the LL.M. program for a resident of Texas will be approximately $22,000; for the M.Jur. the program, total tuition, and fees for Texas residents will be approximately $28,000. You may choose to take only 6 credit hours in one semester, which would cost approximately $5,900. If you choose to take twelve credit hours in a semester, your cost would be approximately $11,000. Non-Texas-resident students have the same flexibility, but the cost per credit hour is slightly higher.
Students looking for financial support should contact the Texas A&M School of Law Financial Aid office. We believe there is a significant advantage of being able to continue to work full time, to live anywhere in the world, and to study at hours convenient to the individual. In the long run, a student should see a savings over the cost of leaving a job, relocating, and organizing personal lifestyles around preset university schedules.
Veterans and their dependents may be eligible for both federal and state tuition benefits. Please visit the Veteran Services website for further information.
This program is pending approval by the Southern Association of Colleges and Schools Commission on Colleges.

TEXAS A&M LAW'S INNOVATIVE DISTANCE EDUCATION PROGRAMS
We offer two distance learning programs, both in areas where knowledge and skills are currently in high demand: Wealth Management and Risk Management.
The programs are entirely online, which gives working professionals and students who have personal obligations the flexibility they need to learn and obtain new skills with minimal disruption to their already full lives.
In our programs, we don't just put a camera in the back of a classroom to record a professor's lecture. That approach is outdated and ineffective. Instead, we use state-of-the-art pedagogical techniques that take advantage of the latest in online learning technology.
Every course is specifically prepared with distance learning students in mind.
Each program takes approximately six semesters to complete, and upon completion, you have the opportunity to visit us at the law school to receive an honored "Aggie Ring," making you a lifetime member of the extensive Aggie Network.
Available Distance Education Programs
Wealth Management
Risk Management
Two degrees — one strong curriculum
Two different degrees are offered for each program—an LL.M. graduate degree for lawyers (for those who have already received a J.D.), and a Masters of Jurisprudence (M.Jur.) for non-lawyer professionals. While non-lawyers may have an extra required course or pre-requisite in U.S. Law, to put them on equal footing with their lawyer compatriots, the program structures and content are then essentially the same, regardless of J.D. status.
Last updated Jan 2018
About the School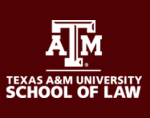 The 21st century lawyer has to do more than just try cases in court. You'll need the ability to negotiate agreements, draft contracts, craft settlements and mediate disputes. At Texas A&M Universi ... Read More
The 21st century lawyer has to do more than just try cases in court. You'll need the ability to negotiate agreements, draft contracts, craft settlements and mediate disputes. At Texas A&M University School of Law, we've got you covered. Our innovative J.D. program emphasizes the importance of real-world legal skills that will fully prepare you for all aspects of your career.
Read less